Berlin 24 June 1945. There have been 53 days since the end of The Battle of Berlin. The Russian red army defeated the Hitler's defense, but the cost was astonishing. The Russians lost more than 81000 soldiers and 2000 tanks. Another 280 000 Russian soldiers were wounded. At the German side, the loss was devastating: more than 458 000 German soldiers were killed and 479 298 captured. The city of Berlin is nothing but rubble: 600,000 apartments have been destroyed and more than 1.5 million of Berliners fled the city.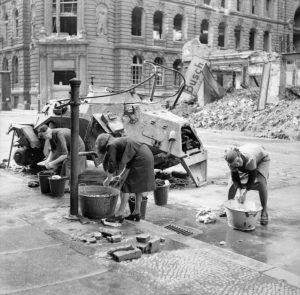 The period after the fall of Berlin could hardly be called "a peace". After the capitulation, the Soviets went house to house, arresting and imprisoning anyone in a uniform including firemen and railwaymen. In many areas of the city, vengeful Soviet troops engaged in mass rape, pillage and murder. There was hardly any food for months. The Red Army made a major effort to feed the residents of the city in their established soup kitchens. Almost all transport in and out of the city had been rendered inoperative and bombed-out sewers had contaminated the city's water supplies. Berliners were washing clothes and drinking water from the street streams of dirty water coming out of the destroyed water hydrants. More than 120 000 Berliners have died during and after the Battle of Berlin operation, some of them from bullets, some from hunger, some from Hyponatremia (water poisoning). On that very day, one of the victims of water poisoning was the painter Gustav Wunderwald (1 January 1882 – 24 June 1945).
—-
          Not many people remembered him as a painter. In 1934, the Nazi party declared his art as "degenerate". His paintings were removed from museums, galleries, and public places. He was forbidden to paint or create any form of art. He made a living hand-coloring advertising films for German film companies: Ufa and Mars Film, and looked after his wife, Amalie Minna Gerull who was a seamstress. They spent their life together since their marriage in 1908 until 1941, when Amalie died. By 1945, Wunderwald the painter was forgotten.
          But once, not too long ago, the art journals called him "the Berlin's Utrillo" , he was the innovator with his "New Objectivity" (Neue Sachlichkeit) style of painting that left a mark not only to German and world art, but also on public life of pre-Nazi Germany, its architecture, music and film.
—-
          Berlin 1926. The city that is constantly innovating in art, is ready for the next innovation. The audience is getting tired of decades of the dominance of Expressionism, where the painters were expressing subjective view of the world.  The audience was looking for the opposite – to strip down the artistic expression to the bare minimal objective elements.
          Critics of expressionism came from many circles. From the left, a strong critique began with Dadaism. The Dada painters wanted to use their art as a form of moral and cultural protest often aimed to express political outrage and encourage political action. Conservative critics on the right gained force particularly in their critique of the style of expressionism. Throughout Europe a return to order in the arts resulted in neoclassical works by modernists such as Picasso and Stravinsky, and a turn away from abstraction by many artists, for example Matisse and Metzinger.
          Wunderwald painting style was essential in the new artistic movement called "New Objectivity". Wunderwald was a stage designer for the theaters and operas in Charlottenburg, Stockholm Dusseldorf, Innsbruck, Freiburg, and Berlin. His style developed through the years working in theaters was structured and lean. In Berlin, he was painting bridges, factories, industrial districts, and working-class areas in bare minimalistic and rough manner. In 1926, his art gained the attention of the most influential art critics and galleries. The Berlin art gallery of Karl Nierendorf included 7 of his paintings on exhibition entitled Das Gesicht von Berlin (The Face of Berlin), while the leading art critics Paul Westheim wrote a lead article on Wunderwald in his own art journal Das Kunstblatt. His paintings were capturing the irreversible process of industrialization of Berlin, where people were minimized to single figures in the urban landscape. His glory continued to grow in the coming years. Wunderwald's urban landscapes attracted attention in high places, for example Gustav Böß, then mayor of Berlin, and the screenwriter Hans Kyser, writer of the script for F. W. Murnau's 1926 filmic adaptation of Faust.
Gustav Wunderwald (1882-1945) Berlin City scenes 1920-1929
          What separated Wunderwald from the rest was his color palette. The mix of the browns and grays with Vincent-van Gogh-eques strong yellow and red, creates an atmosphere of magical realism in somehow dull and unromantic industrial cityscapes. What is little known is that he has developed his distinct color palette in a place where most of the Germans have never heard of – a Balkan province of Macedonia, where he served in German Army stationed in Veles and Skopje between 1915 and 1918.
—-
          Eindhoven, May 2011. I have just won on German Ebay in bidding for a large and enigmatically interesting oil on canvas painting, unsigned on the front, but entitled "Veles im Mazedonien" on the back.

          "Veles im Mazedonien?", That is German language, so the painter is definitely German, but who is it?" i thought. "Maybe UV will show something". UV (ultraviolet) light is standard way to inspect oil paintings. Artist signature can disappear if the painting has been cleaned and restored in the past. When the canvas is illuminated with UV light in a dark room, one can see all interventions of the restorer and maybe spot the invisible traces of the signature.  
          But there were no traces of signature. The painting was definitely never been signed on the front. I compared the painting with the examples from the German expressionists that served in the German army in Macedonia, and were part of the lexicon in 2011: Ernst Richard Dietze (1880-1961), Heinrich Richter-Berlin (1884-1981), Franz Heckendorf (1888-1962), Helmuth Macke (1891-1936), Rudi Lesser (1910-1988)…None of the styles, the techniques or the size of the work matched. This painting was different from anything that I have seen before. Simple and minimalistic geometry of the houses blends in with the rough mountains. And then, the colors! What a marvelous contrast between bright yellow/white against dark brown and purple.
          "Maybe it is Wellershaus". Paul Wellershaus (1878 – 1976) was a German impressionist influenced by Paul Cezanne. But during his military service in Macedonia between 1914-1918, his style turned toward expressionism and he moved toward social themes. The problem was that the Nazi's have declared his art as "degenerate" and destroyed most of his paintings. Until today, I have not seen a single painting from his Macedonian period, although there are records that he created at least 13 paintings in Macedonia.
          I have written a small note "Maybe Wellershaus" at the back of the canvas and left the painting in the background. From time to time, I looked at it, admired the composition and colors, and left it back again.
—-
          Eindhoven June 2017. I got a notification that a "Macedonian" painting has been offered for sale by auction house Ketterer Kunst from Munich, Germany on their auction number 447, "Modern Art II" on June 8th 2017.
Object number 75. Gustav Wunderwald, Gebirgsdorf in Mazedonien, 1918., oil on canvas, 60 x 75 cm.

          I could not believe my eyes. The size of the canvas was identical to my painting. The style, colors technique- all identical. This painting was also signed and came from the estate of Wunderwald's second wife: Bertha Ludwig whom he married in 1941. The painting was also certified by Dr. Hildegard Reinhardt, Bonn, leading expert on the of work of Gustav Wunderwald. The attribution is without any doubt. And since all the elements of this painting were matching my painting, there is no doubt that my painting was from Wunderwald.
Comparison of Wunderwald painting from Ketterer Kunst auction May 2017(left)
and panting in my collection May 2011 (right)
          I have entered Wunderwald in the lexicon and started to research it.
          He arrived in Macedonia after his training in Königsberg.  He arrived in Uskub (Skopje) and later Veles as part of a replacement battalion for the German Army's 43rd Infantry. Wunderwald was fortunate in that the Macedonian Front was a stable one, which saw little of the bloodshed that characterized both the Western and Eastern Fronts. He had time to paint pictures of the Macedonian landscape and towns that he saw. Under the strong Macedonian sun, his yellow started to dominate, coming very close to the work of Vincent van Gogh in Provence.  
Color and composition comparison:
Left/Top: Vincent van Gogh (1853-1890), "The Yellow House" Arles France 1888;
Right/Bottom: Gustav Wunderwald (1882-1945) "Straße in Üskyp (Mazedonien)" c.1917
Color and composition comparison:
Left/Top: Vincent van Gogh (1853-1890), "The Sower" Arles, France 1888;
Right/Bottom: Gustav Wunderwald (1882-1945) "Mazedonische Landschaft)" c.1918
Symmetry and composition comparison:
Left/Top: Vincent van Gogh (1853-1890), "Road by night with star" Arles, France 1890;
Right/Bottom: Gustav Wunderwald (1882-1945) "Mosque in Macedonia" c.1918
          Macedonia influenced Wunderwald in the same ways as Provence (southern France) influenced Vincent. Coming from the gray skies and flat lands of the north, he was bowled over by the sun, bright colors, rugged landscape, and raw people. Just like Vincent, the color palette of Wunderwald became much brighter and warmer and the composition more expressive (despite that he was an icon of New Objectivity). After the war, Wunderwald goes back to the New Objectivity style, but the color palette stays with him through his whole career.
—-
          It took 6 years to resolve the mystery of the "Veles im Mazedonien" painting. In this process of the discovery, I learned about the deficiencies of the expressionism, the virtues of the New Objectivity, and discovered an amazing artist. As a matter of fact, this story is still not over. I am still trying to contact Dr. Hildegard Reinhardt from Bonn and show her my painting, perhaps get more insights about Wunderwald' s time in Macedonia. And just when you think that one story is finished, a new chapter opens up, because I have another unidentified drawing of a tobacco picker from Veles, and could this be also a work of Wunderwald, or…or this is perhaps another story .
Left/ Top: Gustav Wunderwald (1882-1945) "Self-portrait" oil on canvas
Right/Bottom:Unidentified (Wunderwald?) Tobacco picker from Veles, watercolor and pencil
Information and photos sources: